This feature was originally produced by and can be found on Pioneers Post, the leading global news platform for mission-driven businesses, social entrepreneurs and impact investors, in partnership with the EVPA.
Its bold, yellow-and-blue brand is familiar across the globe. But Ikea does more than furnish thousands of millennials' homes: the purveyor of the Billy bookcase also runs its own, specially created corporate social investment company which aims to "back and boost social entrepreneurs all over the world".

But corporate social impact is not as easy to assemble as a piece of flatpack furniture. So how does Ikea Social Entrepreneurship, which is deeply interwoven with its commercial parent brand – and therefore seemingly at high risk of undermining its 'impact integrity' – ensure that it stays true to its social purpose?
Imagine: a for-profit company decides to create an entity – a foundation, say – to invest in businesses that create a positive social or environmental impact. So far, so good. But at some point, the parent company starts using the foundation to serve its own commercial priorities. Under pressure from its main or sole funder, the foundation drifts away from its original mission; and the parent firm's customers walk away in the face of blatant impact-washing. It's a lose-lose situation – but there are ways to avoid it.

Corporate social investors – impact-driven organisations such as foundations, impact funds or social businesses that are related to a company – are uniquely placed to create social impact, backed not only by the company's financial support, but also its networks, workforce and expertise. Meanwhile, they can also steer their company 'relative' towards more sustainable operations.

But this doesn't come without challenges. The interests of corporate social investors and those of their related companies can sometimes be at odds – the former are not-for-profit entities that focus first on doing good, while the latter are businesses with commercial imperatives. (This is still generally the case, even if more and more businesses are defining their purpose, and pursue both impact and financial returns.)

This is why it is so important for corporate social investors to remain sufficiently independent and maintain the integrity of their impact.

Such 'impact integrity' is the focus of the new research published by EVPA. The study looks at how to assess the risk posed to impact integrity in different relationship scenarios; where there are risks, the researchers propose appropriate mitigation measures that might be needed.
Low risk, high risk? EVPA's Impact Integrity Matrix
Two elements determine the level of risk, the researchers found: how dependent on its related business the corporate social investor is (for example, in terms of funding and management), and what type of strategic alignment is at play (whether they operate in the same industry or geography, for example). EVPA's Impact Integrity Matrix helps visualise how great the risk to impact integrity is for each case.
In some situations, the relationship can be fraught. The corporate social investor could be perceived as an impact- or green-washing vehicle, and the social investor will look to keep its distance. In others, keeping close to the company will make more sense – even if that might put its purpose under pressure.
But being in the 'high risk' corner is not necessarily a bad thing, the study finds. Ikea Social Entrepreneurship BV, the corporate social investor created by furniture retailer Inter Ikea Group, shows how being closely connected with the company doesn't have to put impact integrity at risk – as long as you're related to the right kind of company.

IKEA Social Entrepreneurship is classified "high-risk" due to close links with its related company.
Where philanthropy meets business
Ikea is a franchise system, with several entities operating under the same brand. Inter Ikea Group is the franchise owner. There is also the Ikea Foundation, a philanthropic entity that is independent from the retail business with a sole focus on "creating brighter lives on a liveable planet through philanthropy and grantmaking".

About a decade ago, Ikea started to test how to involve social businesses in its supply chain. "This is a challenge when you're a big purchaser like Ikea, because not so many social businesses operate at the scale of our usual suppliers," Åsa Skogström Feldt, managing director at Ikea Social Entrepreneurship BV, says.

Those social businesses received development support to help them better deliver Ikea's supply chain requirements and grow, and Ikea now has partnerships with 12 social businesses around the world that make Ikea products while creating jobs for vulnerable people.
However, Inter Ikea Group wanted to go further, to also support established social enterprises beyond its supply chain that were looking to scale their impact.

So, in 2018, the furniture company founded Ikea Social Entrepreneurship BV, as a private limited company with a social mission and a daughter company to Inter Ikea.

"We have the purpose of supporting social entrepreneurs that work with people in and around our value chain that are vulnerable and marginalised… So our focus is, for instance, on smallholder farmers, informal workers, migrants and refugees, youth at risk, and people with disabilities," Skogström Feldt says.
Ikea Social Entrepreneurship supports two types of social enterprises. First, those that will become part of Ikea's supply chain: they co-create and manufacture products for Ikea, reaching bigger markets and scaling their impact. They benefit greatly from Ikea employees' expertise as they operate in the same value chain – a typical example of "business alignment" as the EVPA researchers call it. This is done through Ikea Range and Supply, the part of the organisation that sources and distributes Ikea products.

Ikea Social Entrepreneurship BV also works with social enterprises that don't make products for Ikea, but work within its wider purpose of helping people who are vulnerable or marginalised (this is what EVPA calls "thematic alignment"). This focuses on established social enterprises in any sector looking to scale – supporting them with investments (grants, loans or equity) and non-financial support, including through its accelerator programmes. This is the remit of Ikea Social Entrepreneurship BV only.

('Ikea Social Entrepreneurship' is an umbrella term to describe Ikea's activities with social businesses; Ikea Social Entrepreneurship BV is a separate social business that supports social enterprises outside of Ikea's value chain to scale their impact through accelerator programmes and investment.)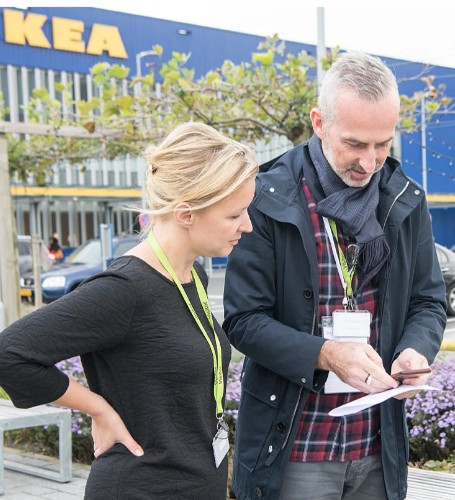 Liisa Smits, founder of Ignitia, took part in the Dela accelerator in 2019.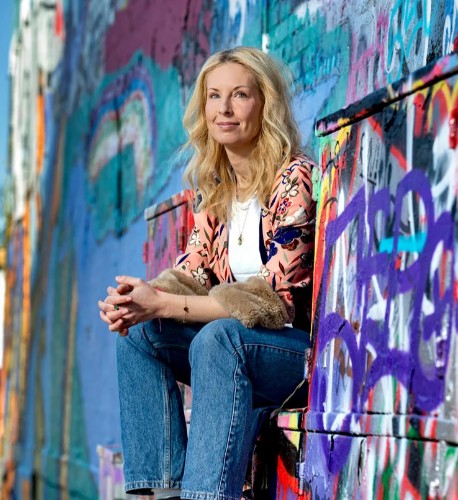 Sofia Appelgren, whose social enterprise Mitt Liv helps employers improve diversity and inclusion.
Ignitia, a social enterprise that provides precise and accurate weather forecasts to smallholder farmers in tropical areas so they can better manage their crops, took part in the first cohort of Ikea Social Entrepreneurship's global accelerator Dela (which means "to share" in Swedish), in 2019. Dela was developed in partnership with Ashoka, a global network of thousands of social entrepreneurs and social innovators.
Ignitia was in a scale-up phase at the time, explains founder and CEO Liisa Smits, and was developing a new business model to reach more smallholder farmers – having a mentor from Ikea really made a difference thanks to their business knowledge and networks. She says: "Our mentor from Ikea was a star in opening doors and attracting relevant stakeholders, we could build on this and eventually find the right model to engage. This saved us years of slow and painful learning experiences."

She explains how the programme enabled her to leverage Inter Ikea's expertise. "Their action orientation and engagement of top-level management, carefully chosen mentors, and shared value as partners made a big difference. This is a unique approach in driving sustainability as a corporate partner."
Mitt Liv, a social enterprise that helps employers improve their diversity and inclusion strategy, also took part in the Dela accelerator. Founder Sofia Appelgren says they benefited from the connection with Inter Ikea as a large employer itself. "We learnt a lot about how a large company like Ikea operates and how D&I [diversity and inclusion] could be implemented in a large company," she says.

Now Mitt Liv has also joined Ikea's value chain, as a consultant to support training in developing understanding of different cultures and backgrounds and helping the company to recruit international talent. "It meant a lot to get the trust from Ikea for our consultants," Appelgren says.

Ikea benefits, in return, from the insight and ideas of the social entrepreneurs. "We get a lot of great suggestions," says Skogström Feldt, adding that they love to "include them in social innovation". For example, Ikea Social Entrepreneurship worked with a social enterprise that supports families with children with special needs, and listening to them led Ikea to reconsider how it interacted with customers within those families.

Ikea Social Entrepreneurship also acts as a social innovation hub for the business – and accelerates change. Skogström Feldt says: "Since the business is so huge, it takes time to transform things. Through partnerships we can test and pilot – it's like being in speedboats, together with social enterprises – and then share the learning cases with our business colleagues. So we can be faster."

And the case of Mitt Liv highlights one advantage of Ikea Social Entrepreneurship over the firm's foundation: the Ikea Foundation's grant making cannot benefit the Ikea business operations or be integrated with the business. Ikea Social Entrepreneurship has more flexibility – it is uniquely placed "at the intersection of philanthropy and business", says Skogström Feldt.

Everything Clicks
"Being closely related to Ikea gives us access to the whole ecosystem of companies under the Ikea brand, and we can tap into a truly global network of co-workers for our programmes and for our pilots," Skogström Feldt says. "So for social entrepreneurs in our programmes, they can learn from a vast pool of experiences, and for our co-workers that are engaged, they can learn about social innovation, social impact, and work with social innovation pilots."

Ikea Social Entrepreneurship BV creates a direct line between the social entrepreneurs and the furniture giant to maximise its impact; but it seems this is only possible because the social investor is (unlike many other corporate social investors or foundations) so close to its related company.

While it is a legally separate business and its mission is written in its charter, it is entirely funded by Inter Ikea, and Ikea employees play an important role in supporting social entrepreneurs. And when it comes to management and decision-making, Inter Ikea has a lot of power: all board members have a background in the company, and some are current employees.

These blurred and potentially conflicting lines could represent a high risk to impact integrity, as Inter Ikea can heavily influence what direction Ikea Social Entrepreneurship is taking.

"It's like ringing an alarm bell," says Dr Lev Fejes, corporate initiative research manager at EVPA and the main author of the study. But this high risk isn't necessarily a bad thing, he adds: well-managed, this can become a "winning situation" – which is a case with Ikea.

What makes the difference is that Ikea's commitment to impact goes across the group of companies, and isn't limited to what its social investor does. "Ikea wants to be people-, planet-, and society-positive. [Ikea Social Entrepreneurship] is one of the enablers that are contributing to that," Skogström Feldt says. "From the outside world, it doesn't matter how we are organised."

She adds: "Sometimes, however, we do have to manage expectations from the social enterprises. Because joining our programmes is not the pathway to become a global supplier to Ikea: instead, we focus on learnings and partnerships to co-develop new ways of inclusion of people who need it the most."

Ikea has committed to being fully circular by 2030 and phasing out single-use plastics. This has helped drive positive associations with the brand.

Smits says: "We have in the past been sceptical to engage with corporate VC programmes, as there's always a worry about what's their real motivation behind investing… Is it to improve their own brand or build sustainable business with social impact? These thoughts didn't even cross my mind when partnering with Ikea Social Entrepreneurship… Ikea could already show a track record of working with social entrepreneurs on the product side."

She adds: "It's hard to articulate the trust that's been built through the Dela accelerator, and the shared value approach which really showcases how Ikea Social Entrepreneurship acts."

This trust was a reason why Ignitia decided to take on investment from Ikea Social Entrepreneurship, which took a 5% stake in the company with an €800,000 equity investment in 2021.

"By engaging as partners with shared values, Ikea showcased early on how they could contribute and what their values were beyond what's stated on a corporate wall," Smits says.
IKEA is an outlier, in the sense that the company is really aligned with the social enterprise and all the other entities.
Ikea the outlier
Nicolas Malmendier, corporate initiative associate at EVPA and co-author of the impact integrity report, says: "What we noticed was that those cases in the high-risk corner were usually not corporate foundations, but corporate impact funds, or in this case, a social business. And it has probably to do with the way these vehicles want to create impact – it's a different lens than corporate foundations.

"So, as such, a vehicle for creating social innovation works very well with the companies involved, because that is where you can scale it.

"It's always about how you want to create impact: is it with the company? In that case, you need to make sure that your integrity is safeguarded. If it's not with the company, then you might have less opportunities, but you have less risk for your impact integrity."

He adds: "I think that other corporate social investors can look at Ikea Social Entrepreneurship and see that risk is, actually, not that bad. Of course it needs to be managed, but it also means that you can achieve a very, very strong and high impact".

Malmendier's colleague Dr Fejes says: "Ikea is an outlier, in the sense that the company is really aligned with the social enterprise and all the other entities, and they seem to follow a very, very thorough plan. Everybody knows what their place is and what they want to achieve to get there. And I think that's a really important thing… everything clicks."