Although we face many challenges in the world today, we believe that through our business we can support and influence positive change. At IKEA we are committed to providing decent and meaningful work across our value chain, being an inclusive business and promoting equality.
Achieving equality is a global challenge. United Nations states states that women are more likely to be living in extreme poverty than men and, due to the COVID-19 pandemic, expects this gap to increase.

Equality is about ensuring that everyone has the same opportunities to maximise their abilities and their life. Through IKEA Social Entrepreneurship we collaborate with several social entrepreneurs and enterprises that aim to create a more equal society and who tackle gender discrimination.
Today we tell the story of four inspiring women.
Alice Freitas is a Brazilian social entrepreneur from Rio who decided to tackle the problems of inequality in her neighbourhood:
"I saw that women in the favelas of Rio were abandoned by their husbands, having to take care of their kids on their own. I also understood that 95% of a woman's income goes to her family. It became clear to me that something needed to change."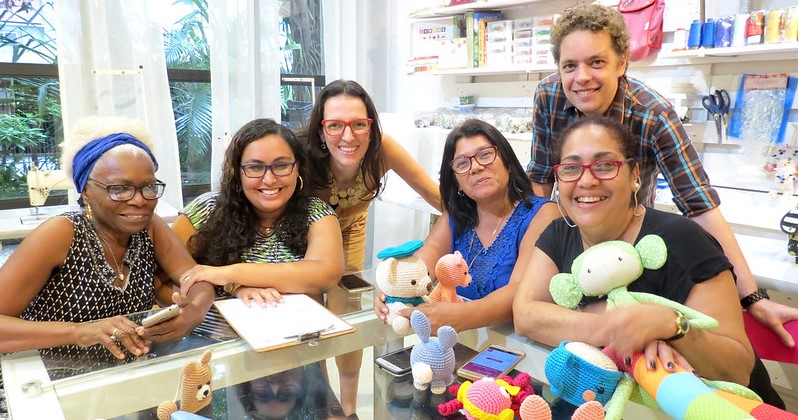 Alice Freitas (third from left) with Rede Asta artisans and crafts, photo credit Rede Asta
Alice started the social enterprise, Rede Asta, with the vision of developing local artisans involved in the informal economy into entrepreneurs. For them, working in the informal economy often results in lower salaries coupled with increased inequality and little social protection. Rede Asta supports the women with their education, accelerates their businesses and provides them with opportunities by introducing them to new clients. Alice also facilitates local networks where the artisans are introduced to one another, fosters peer learning and gives them a sense of community belonging.

As a participant in our co-created Dela Accelerator programme with Ashoka, Alice receives support on how to scale her venture and challenge the root cause of the problems. By scaling her enterprise, Alice can reach out to more of the seven million women artisans involved in the Brazilian informal economy and improve life for even more women.
"Business or autonomous activities are for many women the only way towards a sustainable income, as it is the only way to get money at the same time as taking care of children. Helping women set up businesses they can run from or close to their home enable a better life."
Alice is not unique in addressing the need for equality and inclusion.
Our partnership with WWF Nature Pays and WWF Mexico empowers Community Conservation Enterprises (CCEs) in the rural Copalita Zimatan Huatulco basin in Oaxaca, Mexico. Oaxaca is one of the poorest states in the country and home to approximately 1.80 million of the 11 million indigenous people living in Mexico. By combining nature conservation and livelihood creation these enterprises are breaking new ground and challenging cultural perceptions of what women can achieve. Women like Blanca: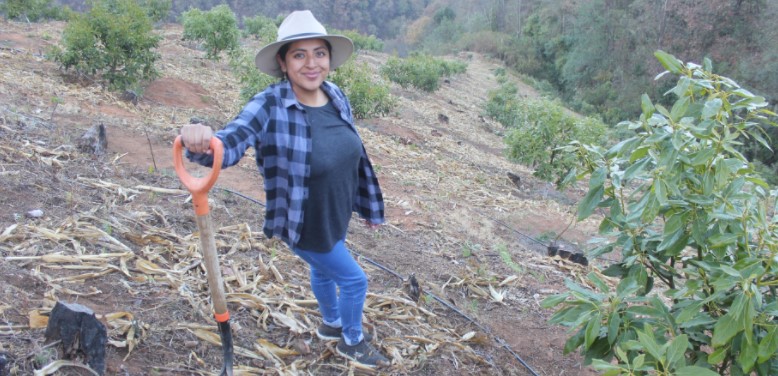 Blanca Estela Sánchez Reyes from Mbis Bin, photo credit WWF Mexico
Blanca is the leader of Mbis Bin, a CCE which produces and sells organic fertilizer to local farmers. She has had to fight outdated views of her leadership and challenges the patterns of women traditionally not being included in decisions and leadership.
"Women have been put to the idea that we do not have the capabilities to be a part of decision-making or being a front figure. I am still experiencing resistance because of my gender, and I am not always taken seriously. But it is an important fight worth taking, in order to establish change."
More women are now following Blanca's lead. Apolonia who, with nine other women, have created the enterprise Teenta Yareen which produces organic avocados and are actively trying to show what women are capable of:
"We want people to know that women can do what it takes; we can carry compost, plant seeds and harvest; we do not need men for things to happen. We want them to know what it is to feel proud of what one sows and to see the fruits of our work."


Fabiola in Nayé's production of medical ointment (left) and Apolonia from Teenta Yareen (right), photo credit WWF Mexico.
Nayé is another community conservation enterprise that was inspired by and started from the roots of Mbis Bin. Nayé grow medicinal plants and are an example of how support and pioneers are important, that it is easier to establish change together than alone.
"We have always had support from Mbis Bin, but not always from the municipality and other people. Mbis Bin has taught us that just because we are women, we do not have to stay at home; men and women are equal. We now want to pass this motivation to other women and teach them that this is possible, that we all can do it." - Fabiola, co-founder Nayé
Our programme with WWF works with 13 Community Conservation Enterprises in the Oaxaca region. Each one receiving support on how to consolidate and strengthen their businesses coupled with governance, decision making and market access.
Today, we know that COVID-19 has made things especially hard for people who are already struggling. The lockdown had big implications for the women artisans working for our social business partner Rangsutra. Many of the women lost their economic independence and several families lost their entire livelihoods. Rangsutra with the support of IKEA found a way for women working from home, to keep production going.
"For these women the main benefit is to have regular work with dignity. This opens up their world." - Sumita Ghose, founder of Rangsutra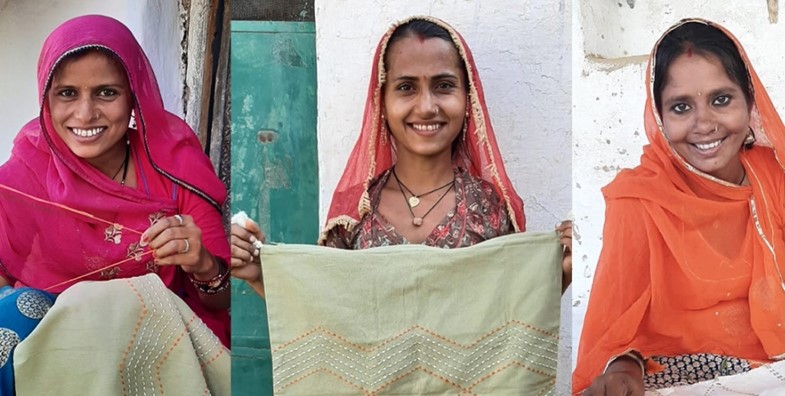 Santosh, Sita & Gulidevi
Even with such initiatives, gender inequality remains in the bigger picture. This is something social entrepreneurs can change. In order to overcome inequality on a bigger scale, people and businesses need to follow and facilitate the steps of people like Alice, Blanca, Apolonia and Fabiola as there is a lot to learn from social entrepreneurs on how to improve parity.
"In order to start promoting women's empowerment, it is important to rebuild business infrastructures to serve women's needs and include women in leadership roles. It does not mean less productivity, the opposite, it means more focus and a harmonious yin & yang balance and in the long term a better world." – Alice Freitas
Blanca from Mbis Bin wants to encourage even more people to start their journey to tackle inequality. She is an example of leadership that can inspire others to break old patterns within- as well as beyond her community.
You can meet Blanca at the Skoll World Forum (April 15) where she will be talking about her experiences and spreading her knowledge. Sign up here and listen to her fight for equality or see her in WWF's Market Voices video.
Read more about our work supporting women's empowerment with our global cushion covers KLARAFINA and MOAKAJSA here, sold in all IKEA stores now.