With COVID-19 having a devastating effect on marginalised communities everywhere, recognizing the role social entrepreneurs play in ensuring recovery for these communities is vital.


In response, World Economic Forum launched the COVID Response Alliance for Social Entrepreneurs which outlined a 2021 Roadmap as part of its
Action Agenda
.
The COVID Response Alliance for Social Entrepreneurs is a World Economic Forum initiative formed in April 2020, comprised out of a small group of global leaders in social entrepreneurship. Now the group has grown to 84 and is comprised of NGOs, businesses, civil society organisations and other leaders in the social entrepreneurship ecosystem that represents more than 90,000 entrepreneurs worldwide. The Alliance jointly call on their peers to take action in support of social entrepreneurs everywhere in a shared Action Agenda.
With the recently released
Roadmap,
another milestone has been reached for the COVID Alliance and for IKEA Social Entrepreneurship as one of its founding members. The Roadmap is an ambitious collective portfolio of 21 action projects clustered in 10 areas of action led by members of the Alliance.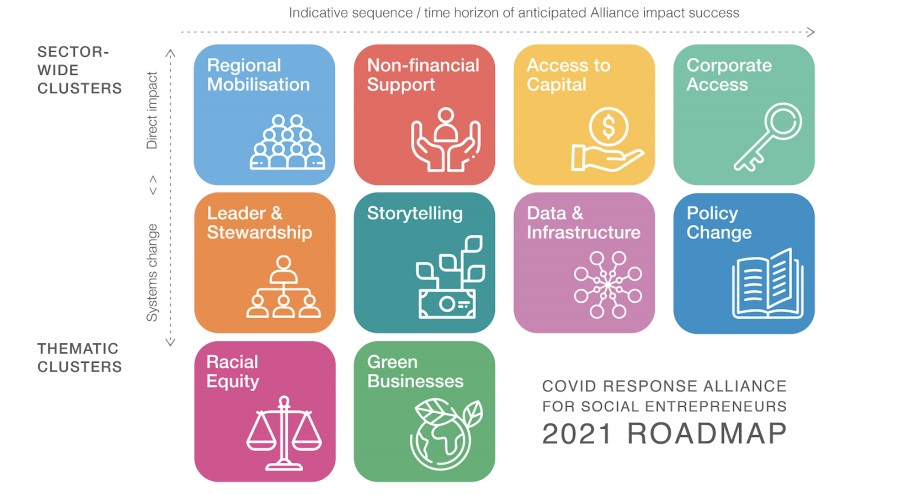 Source: Weforum.org
The 2021 Roadmap builds on the actions presented in the Action Agenda AND outlines the actions it will take as a collective. Through this, the Alliance seeks to gain more support for social entrepreneurs working on the frontlines of this COVID crisis.
As one of the co-leaders within the "Corporate Access" cluster, IKEA Social Entrepreneurship seeks to find 'corporate ready' ventures, while at the same time providing knowledge and insights for corporations and social entrepreneurs to collaborate.
Through this, we aim to mobilise more corporate and social enterprise partnerships that support social enterprise growth and progress towards an inclusive economy. We want to advance inclusive business practices and social impact goals, for both corporations and social enterprises.
Because this pandemic has made it clear the important role businesses and corporations play in contributing to society. And with businesses now more than ever looking to establish new ways of working to ensure their sustainability, growth, and ability to operate in existing and new markets, the way they operate can bring about big positive change that benefits society.
That's just one step of the Action Agenda with many other members, all working hard in doing their part to create an inclusive and sustainable future for the world and its people.
Social entrepreneurs remain pivotal players in supporting the most marginalised of our global society. The COVID Alliance and we as IKEA Social Entrepreneurship call on leaders across all sectors to keep investing in these first responders now.
"
2021 can be and should be the year of breakthrough collaboration. The time to go high, far and fast is now.
The COVID Alliance World Economic Forum
.